We spoke with artist and writer Rafer Roberts about his work on the It Was Metal graphic novel. Rafer wrote three stories in the book and drew one story. We first encountered Rafer on the comics convention scene through our mutual connection with Valiant Entertainment. Rafer is best know for his creator-owned projects Nightmare the Rat and Plastic Farm, and for his work on Valiant's Harbinger: Renegade and A&A: The Adventures of Archer & Armstrong. His new series Modern Fantasy debuts on June 27th from Dark Horse Comics.
It Was Metal featuring the work of Rafer Roberts is available now through A Sound of Thunder, Amazon.com and on Kickstarter through Friday, June 1st.
BUY FROM ASOT  -  BUY ON KICKSTARTER  -  BUY ON AMAZON
A Sound of Thunder: What are your thoughts on the connection between music and comics? 
Rafer Roberts: Some of my happiest memories of growing up were laying around, putting on my headphones, and reading a big pile of comics. So, for me, there is that emotional connection. But it goes beyond that. 
Comics and music have always been intertwined. One example is Superman. It's hard to think of Superman without that John Williams score popping into your head. Then you've got crossover between creators. Crumb did the cover art for Big Brother, Danzig wrote a line of comics back in the '90s, and Gerard Way has basically taken over a corner of DC. 
There's also the fact that for parts of history music and comics were seen as blights upon society. Comics and music have been accused of promoting sex, violence, the overthrow of polite society, and I say, yes. Yes they do. At least the good ones do, anyway. 
ASOT: What's your favorite band? 
Rafer: Other than A Sound of Thunder? That's an incredibly difficult question to narrow down, so I'll just list a lot of bands I listen to and like:. Nick Cave, Faith No More, Ween, Pink Floyd, Hawkwind, Klaatu, James Brown, Monster Magnet, Black Sabbath, Dead Kennedys, Dead Milkmen, NOFX, Ella Fitzgerald, Sinatra, a few Harry Nilsson, The Turtles, Beastie Boys, Run DMC, Blue Oyster Cult, Les Claypool, The Who, Guns 'n' Roses, Ennio Morricone, War, Leonard Cohen, Mojo Nixon, The Pogues, Rasputina, Reverend Horton Heat…and I'm gonna stop now. 
ASOT: First concert you attended? 
Rafer: First one ever was either Bo Diddly at some amusement park or the Beach Boys playing post-game at Yankee Stadium. 
First one on my own was Guns n' Roses Use Your Illusion tour at Madison Square Garden. Soundgarden was the opener and no one was into them at all. I remember that GnR took forever to hit the stage, but that the jumbotron thing was showing women in the audience flashing their boobs. I was a high school freshman's at the time, so that was pretty cool. Oh, also it was Gilby Clarke's second or third show with the band after replacing Izzy, and he fucked up a few times. The crowd seemed forgiving. 
ASOT: Last concert you attended? 
Rafer: It was actually A Sound of Thunder. But I fucked up and missed their set, like an asshole. 
Before that, if I remember right, it was Seu George doing his Bowie covers. Real good, super chill. 
ASOT: Do you play an instrument, and have you ever been in a band? 
Rafer: Ha ha! I used to play the sax, primarily in my high school marching band. I don't think I enjoyed playing enough to try to do it outside of school. I was the lead singer in a band in high school though. We did mostly classic rock, Led Zeppelin, Sabbath, Clapton. 
ASOT: If you had your own band, what kind of music would it play, and what would it be called? 
Rafer: I'd probably try to sing again, and I would steal the name of my high school band: Chübakka.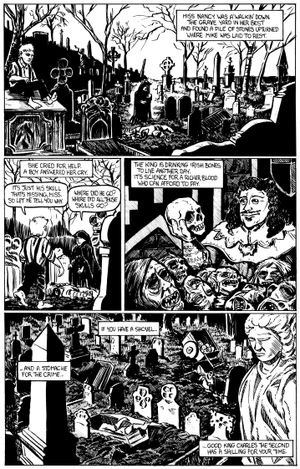 ASOT: What comes to mind when you think of your work on your stories in It Was Metal? (Any particular challenges, favorite aspects, changes you made, etc.?) 
Rafer: For the Charles the 2nd one, the one I also drew, I was going for an old horror comic vibe, like an old EC deal. The narrative structure of the lyrics worked real well in that regard, and lent themselves to some fairly gruesome scenes. I had a blast drawing this. 
For "Obsidian & Gold", Josh sent me a lot of background and reference, detailing this real cool Blue Öyster Cult mythology. My challenge was boiling it all down to a 4-page comic. I focused primarily on how the Sound of Thunder song also adapted this mythology and focused on those aspects. My favorite bit was putting the band into this story. They didn't ask me to, but I kinda saw this comic as the video for the song and I really wanted to ape old videos where bands like Twisted Sister were akin to super-heroes commanding the power of metal. Roberto kicked some serious ass on the art and Trav [Hart, colorist] brought it to life with his colors. I'm really happy with how this one turned out. 
"Lifebringer" was a ton of fun, and I'll jump at any chance to work with Ben [Templesmith]. This one I looked at like an old Heavy Metal anthology piece, big and weird and trippy as hell. There's actually a lot more to this story, so hopefully people dig it so we can jump back into this world. 
ASOT: When working on It Was Metal, were you inspired by any particular comics creators, stories or characters? What references of your own did you bring to the story? 
Rafer: Well, aside from the influences mentioned in the previous question, I also looked at creators like Steve Gerber, Steve Englehart, Steve Bissette, and all those stoned writers and artists named Steve from the 70s. I mean, I do this with all my work, but I also did it here. (Also Rick Veitch, Alan Moore, and so on!) 
ASOT: What is your latest project that you would like to promote? 
I've got Modern Fantasy with Kristen Gudsnuk on art coming out from Dark Horse on June 27th. It's a slacker-adventure-comedy taking place in a world where every fantasy novel or D&D module was our ancient history. 
And I'm working on something with Mike Norton, Marissa Louise, and Crank! that hasn't been announced yet (but it's AWESOME). I'll be talking everyone's ear off about it on Twitter soon enough. 
ASOT: For new fans interested in checking out your work, with what one book or project should they start? 
If folks are into buddy comedies with a bit of surreal adventure, A&A: The Adventures of Archer and Armstrong. If gritty teenage superheroes are more their bag, Harbinger: Renegade. Slightly disturbing newspaper comics your thing? Check out Nightmare the Rat. Incredibly long psychedelic trips through one man's descent into madness? That's Plastic Farm. And, of course, Modern Fantasy, which comes out June 27th. 
Rafer's web & social media links: 
Website: http://www.plasticfarm.com 
Patreon: http://www.patreon.com/plasticfarm 
Twitter: twitter.com/plasticfarm 
Instagram: instagram.com/plasticfarm