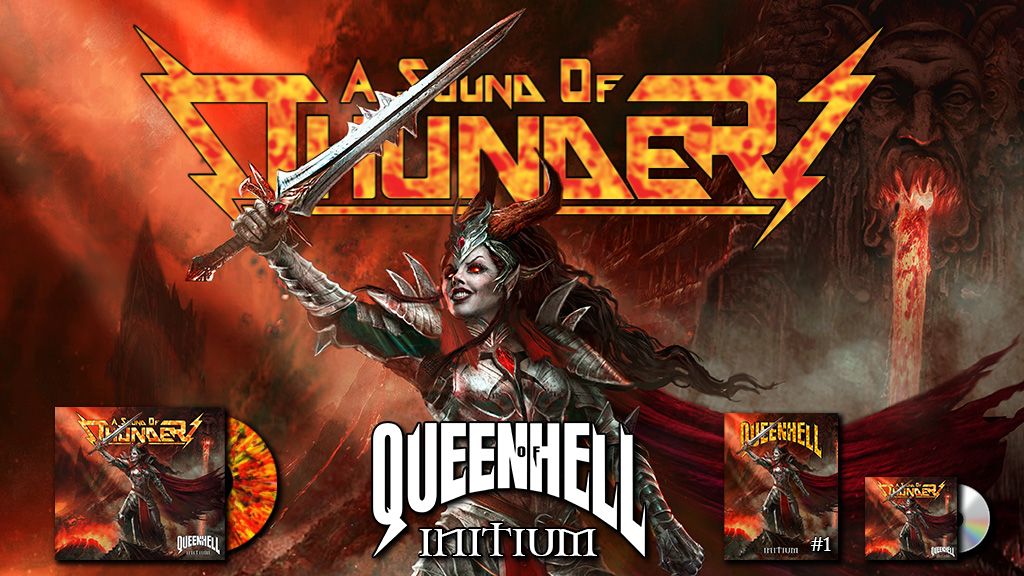 Hail, Legion of Thunder! 
We're proud to reveal our most ambitious project ever: QUEEN OF HELL: INITIUM! We've been building the tale of the Queen of Hell and her battle with Udoroth for a decade, and we're finally ready to unleash it in this truly epic heavy metal music and comic book project, available only on Kickstarter!
The Queen of Hell story will unfold in both original songs and a comic book series, with guest vocalists performing as characters from the story. Fabio Lione (Official) (Rhapsody Of Fire, Angra) performs as Lucifer. Mats Levén (Skyblood, Candlemass) performs as the story's main villain Udoroth. 
The musical portion of the project is produced by Kevin Gutierrez (Paul McCartney, OAR, Shinedown) with orchestration by Brad Charles (Magic Giraffe Soundworkss). The comic is produced and edited directly by the band with a script by Rafer Roberts, maker of comics (Modern Fantasy, Minecraft) and artwork by Mike Ratera (Stalag-X, Conan the Conqueror). The main cover artwork is by Art of Dusan Markovic, with variant cover artwork by Joseph Schmalke Storyteller. 
The Queen of Hell story is an a dark fantasy adventure with themes familiar to metal fans: 
Cecilia was born to serve the demon lord Udoroth. Heaven tried to turn Cecilia against her diabolical nature. But neither side considered how strong-willed Cecilia can be! Once she learns the truth about herself, and about those she thought she knew, all bets are off. Will Cecilia help Udoroth conquer Heaven? Will she aid the Angelic forces to defeat evil? Or will she forge her own path of destruction...as the Queen of Hell! 
The music of Initium is classic, melodic, dynamic and theatrical heavy metal topped with the powerful vocals of A Sound of Thunder vocalist Nina Osegueda. Metal aficionados will notice influences ranging back to the roots of heavy metal and bands like Black Sabbath and Judas Priest, to modern power metal bands like Sabataon and Powerwolf, plus touches of prog and even black metal. 
Queen of Hell: Initium is available exclusively through the Kickstarter crowd-funding platform. The project launched on Friday, October 28th and raised over $30,000 in its first 24 hours. It has been selected by Kickstarter editorial staff as a "Project We Love" for creativity and quality. Project backers get access to exclusive merchandise including limited edition CDs, vinyl (including color variants), cassettes, t-shirts, variant cover comic books, bonus music, and more. The campaign ends on December 2, 2022. 
Limited rewards are going fast, so back the project now to bring the Queen of Hell to life! Visit the Kickstarter here!!