We interviewed artist Kendall Goode about his work on the It Was Metal comic anthology. Kendall is a multiple threat, having drawn, colored and lettered "It Was Metal", which has already been cited in advance reviews as a stand-out story in the book. He was also instrumental in completing the entire collection, having lettered five of the book's ten stories. Kendall is best known for his mini-series The Doorman published by Heavy Metal, and for his work on BOOM! Studios' WWE comics.   
It Was Metal featuring the work of Kendall Goode is now on Kickstarter, where several of Kendall's original art pages are also available. You can also order It Was Metal from the A Sound of Thunder web-store, or, if you prefer to feed the big corporations, you can buy it from Amazon.com. 
Buy on Kickstarter - Buy on ASOT Store - Buy on Amazon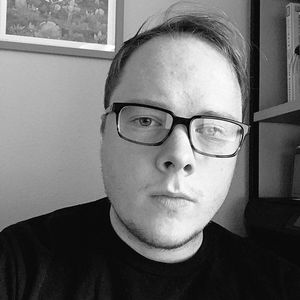 A Sound of Thunder: What are your thoughts on the connection between music and comics? 
Kendall Goode: Despite comics rarely having audio components, there's probably a lot more inter-connectivity between music and comics than people think. Writers and artists create playlists of songs to go along with a comic, whether its music they used to set a tone for themselves or curating a soundtrack. Like any piece of media, songs can help expand the experience of reading a comic. 
ASOT: What's your favorite band? 
Kendall: Probably Blink 182. 
ASOT: First concert you attended? 
Kendall: Franz Ferdinand/Death Cab for Cutie. 
ASOT: Last concert you attended? 
Kendall: Oh, it's been a while. Sleigh Bells, I think? 
ASOT: Do you play an instrument, and have you ever been in a band? 
Kendall: I do not. In grade school I played a year of trombone and then the following year they made me change to tuba/sousaphone after another kid quit the band. Luckily, I moved after that year and no longer had to worry about being in that school band. 
In high school I was friends with a lot of music/bands people and goofed around for a single open mic night doing what I guess would be considered 'singing'. It was awful. 
ASOT: If you had your own band, what kind of music would it play, and what would it be called? 
Kendall: I'm a big fan of Motion City Soundtrack and that broadly labeled pop-punk or emo. But maybe add in some pop like Robyn or Tegan and Sara. As for a band name...something like Date Knight or Professor Television.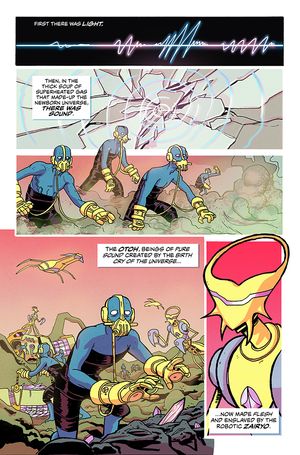 ASOT: What comes to mind when you think of your work on "It Was Metal"? (Any particular challenges, favorite aspects, changes you made, etc.) 
Kendall: I usually work digitally, so there's always a learning curve to switching it up with pencilling/inking traditionally.* But the end result was something different than my usual work, especially with the more conceptual ideas presented in the short. Comic storytelling tends to lean toward straight forward tv-style narratives, while It Was Metal goes in a more music video/montage direction. 
ASOT: When working on (your story in It Was Metal), were you inspired by any particular comics creators, stories or characters? What references of your own did you bring to the story? 
Kendall: I definitely was trying to lean into as much colorful sixties Marvel Comics as possible. Jack Kirby and the grander, more out-there, visuals of superhero based sci-fi. I love Metalocalypse and the DoomStar Requiem opera so there's definitely influence there, too. 
ASOT: What is your latest project that you would like to promote? 
I've mostly been doing work on BOOM! Studios WWE comics. I helped out drawing parts of WWE #16 and #17 and I have shorts in almost all of their over-sized special issues (Wrestlemania 2018, Royal Rumble 2018, etc). 
ASOT: For new fans interested in checking out your work, with what one book or project should they start? 
Kendall: The Doorman, a sci-fi adventure comedy mini-series written by Eliot Rahal and Daniel Kibblesmith that we did a couple years ago. It was published by Heavy Metal. 
Kendall's web & social media links: 
Web: www.kendallgoode.com 
Twitter: @KendallGoode