We interviewed the legendary Bob Hall about his work on the It Was Metal comic anthology. Bob is best known for co-creating the West Coast Avengers, his long run as both artist and writer on the original Shadowman series, and for writing and drawing several popular Batman graphic novels. Bob has worked on many major characters and titles for Marvel, DC, and Valiant. He is also an accomplished playwright and director, and is a co-founder of the Flatware Shakespeare Company in Lincoln, Nebraska. 
Bob penciled and inked the ten-page story "Phantom Flight" for It Was Metal. You can get the book and some of Bob's original art pages on Kickstarter through June 1st. CLICK HERE TO ORDER
A Sound of Thunder: What are your thoughts on the connection between music and comics? 
Bob Hall: Wow. Haven't thought of it that way. Comics have their own rhythm and I often concoct the images so that a kind of "beat" is present.  Comics manipulate time, just as films and music do. 
ASOT: What's your favorite band? 
Bob: Depends on my mood. I wish I could name you a metal band that was a favorite but metal has never been my favorite sound. I suppose that I always go back to Springsteen, particularly with E Street. I'm the right age for him, The Stones, The Beatles, The Who , The Kinks – and if I want to persuade myself to exercise I often put on George Thorogood. 
ASOT: What was the first concert you attended?  
Bob: If you're talking ANY concert , it was the old folk group from the sixties, The Limelighters. (I'm that old.) My first R&B concert was Ray Charles. First rock was The Who. 
ASOT: Last concert you attended?  
Bob: Elvis Costello. 
ASOT: Do you play an instrument, and have you ever been in a band? 
Bob: God no. You wouldn't want that. 
ASOT: If you had your own band, what kind of music would it play, and what would it be called? 
Bob: It would play whatever I wrote after I miraculously became musically adept and it would be called Doctor X after a masked pro wrassler I loved when I was 14. 
ASOT: What comes to mind when you think of your work on "Phantom Flight", your story in It Was Metal? (Any particular challenges, favorite aspects, changes you made, etc.?) 
Bob: Trying to turn real people into comic characters is always a challenge but especially when you are only working from photo reference.  You never have a photo showing faces from every angle you need and while you can project what someone would probably look like from that angle, you can never be sure.  Beyond that I never feel my forte is drawing airplanes – but I love doing explosions.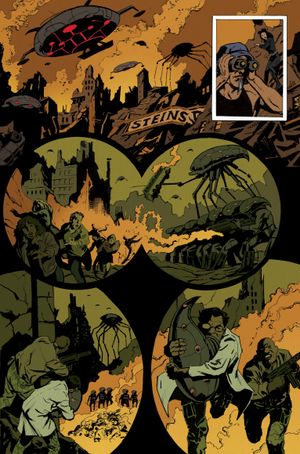 ASOT: When working on "Phantom Flight", were you inspired by any particular comics creators, stories or characters? What references of your own did you bring to the story? 
Bob: I always refer to Wally Wood's work when I do airplanes or other military weaponry. As for my own work, the ruined cities reminded me of work I did on Batman when Gotham was ravaged by an earthquake. 
ASOT: What is your latest project that you would like to promote? 
Bob: I'll let you know as soon as someone hires me to do it. Anyone out there need a comic artist? (ASOT: We guess that means the answer is It Was Metal!) 
ASOT: For new fans interested in checking out your work, with what one book or project should they start? 
Bob: My best work is the stuff I wrote myself: Shadowman for the old Valiant, Armed and Dangerous when Valiant became Acclaim, and the DC "Prestige" projects:  I, Joker; Batman DOA; and It's Jokertime. 
Bob Hall's web & social media links: 
Web: www.bobhall.com